SENSATIONS DINING ROOM
Get ready to enjoy chef prepared meals daily in our new Sensations Dining Room. A splash of soothing color, new carpeting, and the addition of floor-to-ceiling drapery accentuate the classic architectural features of this magnificent space and draw the eye up towards our exquisite dome ceiling. Every bite taken here will be heaven.  
CELEBRATIONS LOUNGE
Welcome to the new Celebrations Lounge where activities abound! Tall windows, coffered ceilings, and natural wood accents make this area great for entertaining, gathering with friends, or participating in a group happy hour.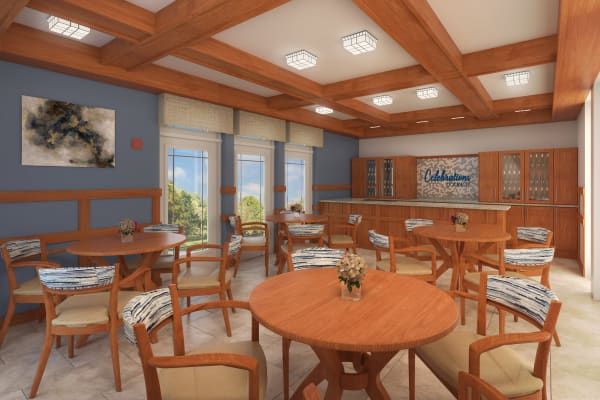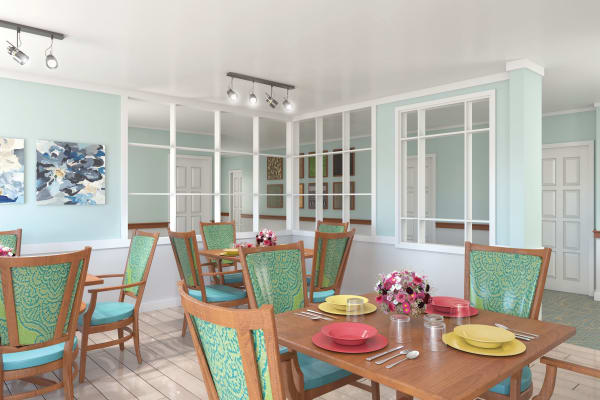 SHINE
℠

DINING ROOM

Complimentary to our exclusive SHINE℠ Memory Care Program, this remodeled dining room was aesthetically designed to mimic the subtle principles used to stimulate appetite, awareness, and participation. Light and airy color color on the walls coupled with bright upholstery on the seating, make this a space for meaningful engagement every day for our residents. 
GRANDE LOBBY 
We know how important first impressions are, and you and your guests won't be disappointed once you enter our new Grande Lobby. Cozy up by the fireplace, schedule a dinner reservation with our concierge, or simply sit back and relax in our new comfortable furniture. High ceilings and exquisite craftsmanship make the Grande Lobby one of the reasons Spring Mill is the best senior living in Phoenixville.